Overview
Lumbini City Tour of Raconteur Adventure takes you on this amazing journey where spirituality meets inner you.  Lumbini is the birthplace of Lord Buddha who showed this world the way of leading a complete life. Buddha gave Buddhism to this world. The holiest site, Lumbini is beautiful and equally powerful with the energy it surrounds it with. Lumbini houses numerous monasteries, stupa, and appealing history rooting back to more than 1896. Lumbini, one of the sublime Buddhist pilgrimage sites. This affluent site welcomes more than 400,000 Buddhist and Non-Buddhist visitors. Lumbini is full of the masterful act of human creation in the form of monasteries and Stupas.
Attractions of Lumbini
Some of the attractions of Lumbini are Sacred Garden and Buddhist monuments built by different nations. Sacred Garden is the place where Siddharth Gautam who later became Buddha (enlightened) was born in 623BC. The whole site is significant as it carries a very rich history and has amazing energy.  But what stands different is the Ashoka Pillar erected by Mauryan Emperor Ashoka of India when he visited this holy site in 249BC. The inscription which is written in the pillar is also known as Paderia Inscription. This inscription is an inscription in the ancient Brahmi script, which was discovered in 1896 in modern Nepal by Gen Khadga Shameshar with the assistance of Alois Anton Führer. The inscription mentions this Sacred Garden has spread across 9sq.km.  
A pond lies near the temple, where the mother of Buddha took bath before giving birth to the Buddha and the pond is named, "Puskarni". And in this very pond, the first bath was given to the Buddha. There is complete positive vibration in Lumbini and you can feel it when you come to Lumbini. Out of many fascinations in Lumbini, Mayadevi Temple is one of the popular and sacred places as the temple is worshipped as the exact birthplace of Lord Buddha. Excavations found the "marker stone" revealing the exact spot where Siddharth Gautam who became the light of Asia, the Buddha was born.  
More on Lumbini City Tour
Beyond the fascination of these sites, there is a whole set of beautiful monuments masterfully crafted resembling the different forms of structural engineering. But what wins overall this masterful beauty is the positive vibe that you can experience around and inside these monuments. Monastic zones lie north of the Sacred Garden. These monuments strongly reflect upon different sects of Buddhism. Myanmar Temple is a structure that is shiny gold and white resembling the Shwedagon Pagoda of Yangon. Similarly, International Gautami Nuns Temple is a replica of Swaymbhu Stupa of Capital, Kathmandu. So, we Raconteur Adventure hereby has a perfectly designed itinerary of Lumbini to make you feel and experience the religiousness and harmony of the fascinating city Lumbini.
Itinerary Overview, Lumbini City Tour
We have 2 Night 3 Day tour itinerary of Lumbini. We will start from Kathmandu, the capital of Nepal which is also full of natural and artificial beauty. On our first day, we will drive(08 hours) or fly to Lumbini from Kathmandu.  Upon arrival at Lumbini, we will welcome you at your pickup point and will drive to the hotel and this short drive is rewarding with an amazing view of local lifestyle, greenery, construction, and of course accompanying positive energy. Then, after the short refresh, we will start sightseeing in the surrounding area on foot or in the vehicle. On our day second and third of the itinerary, we will visit major shrines such as Niglihawa, Gotihawa, and Kundan. 
After breakfast at the hotel, we will go sightseeing starting our day with an amazing visit to Lumbini Garden. We will worship, do meditation here in the large garden. After this site, we will drive to Tilaurakot (Kapilvastu) and on the way, we will visit major shrines including Niglihawa, Kundan, and Gotihawa.  On the last day of our itinerary, we will drive back/fly to Kathmandu from Lumini after having breakfast at the hotel. We will receive you at the pickup point and will drive you back to the hotel. On this very day, we will organize a farewell dinner so that we can sit sharing stories to share with others and be the raconteur. In this whole journey, you will be getting a delicious meal and comfortable sleep.
 Why Raconteur Adveventure?
Raconteur Adventure is the name you can trust on, so, we promise you the service mentioned in the itinerary. Similarly, have the theme of green tourism, so, we and you can contribute in the way possible to mother nature by following the pathway with the slogan of, "Leave nothing but footprints, take nothing but photographs". We offer various choices in accommodation and catering. We will readily book any star category hotel if you desire us to do so. The package mentioned here is of three-star category hotels.
So, leave us the hassle, and come to book this fulfilling Lumbini City Tour with Raconteur Adventure.
 Related Blog on Lumbini by Brian Barry on wanderingon.com
Lumbini, Nepal; The Birthplace of the Buddha, Brian Barry, wanderingon.com
Included
Accommodation, Food, salary, insurance, equipment and medicine for all staff.
All typical Meals during the trek (Breakfast, Lunch and Dinner)
Raconteur Adventure personnel standby during emergency
Hotel and Airport pick up and drop by car, bus and van
Star category hotel in Kathmandu and Lumbini
Domestic airfares (on request)
Park Fees wherever applicable
All government taxes
Official expenses
First-aid Kit
Map
Excluded
Your expenses which might include room service, internet charges, laundry, bar bills, telephone bills, etc.
Trip Cancellation cost, Loss theft and damage to your personal item
Sightseeing and activities other than those mentioned
Lunch and dinner not mentioned in the itinerary
International Plane fare and taxes in the Airport
Other meals not mentioned in the itinerary
Travel Insurance which is mandatory
Tips and Gratitude's (expected)
VISA Fees
Checklist
Tour Plan
01
Day 01
Kathmandu to Lumbini (Bhairawaha)
On our first day of Lumbini City Tour, we will either drive or fly to Lumbini from Kathmandu. Kathmandu is the capital of Nepal and serves various of natural and artificial wonders to observe. If you choose to be driven, then total drive time is 08 hours and if your wish to fly instead, the total flight duration is just 45 minutes. We will pickup up you at the point and will drive you to your hotel. After short refreshment at hotel, we will start our sightseeing journey of the day by visiting the surrounding area. Overnight at star category hotel in Lumbini. Breakfast, Lunch and Dinner
02
Day 02/03
Lumbini-Tilaurakot-Lumbini
After kicking off the day with breakfast, we will gather for a short briefing about the sightseeing place for the day and will visit Lumbini Garden first.  After some meditation and worship, we will then drive to Tilaurakot and sightsee significant Buddhist shrine-like Gotihawa, Niglihawa, and Kundan. After sightseeing in Tilaurakot, we will drive back to our hotel and we will stay overnight in the same hotel. You can extend your visit by staying at Tilaurakot, the ancient city of Kapilvastu where Prince Siddharth spent his 29 years of life and ultimately left to the path of enlightenment.
03
Day 04
Drive/Fly back to Kathmandu
After having a delicious breakfast at the hotel in Lumbini or Tilaurakot, we will drive or fly back to Kathmandu. We will host a farewell dinner to hear your stories and add ours and also so that you can give us a review.
Tour Location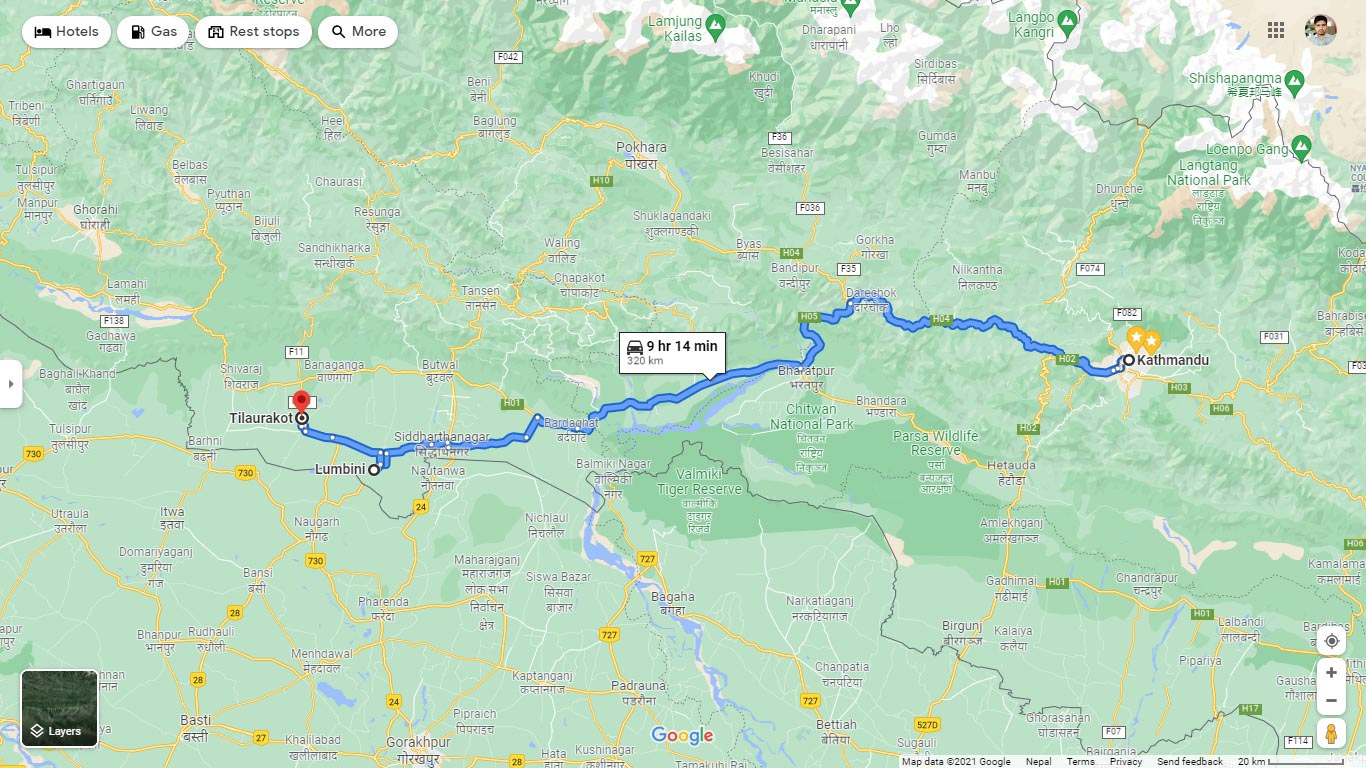 FAQs