Overview
Manang Valley Trek with Tilicho Lake
Manang resembles one of the most isolated places in Nepal. Sharing proximity with Tibet, Manang valley is in the eastern region of Annapurna Circuit with an altitude of 4900m. Manang valley carries a rich history and is still a trade hub for yak and salt traders of Nepal and Tibet. Once declared a vital trade site of East- Asia, the valley unfolds with various stories. Once, one of the confined places of Nepal, Manang, was opened for trekkers and travelers during the 70s. Manang shows its guests pristine mountains, including Pisang Peak, Chulu range, Gangapurna, Kangaru Peak, Throng Peak and Tilicho peak. Journey to Manang valley assures satisfaction to the fullest, offering a glimpse of local lifestyles and glittering snow-capped mountains. The trekking trail to Manang demands more than physical fitness, but no worries, as Raconteur Adventure handles the logistics and has a perfect Manang valley Trek itinerary.
Tilicho Lake, one of the highest lakes in the world, is stunning, and this lake is awaiting to be explored.
What awaits in Manang Valley Trek?
You will set your foot into 13 districts during our Manang Valley Trek. Manang divides itself into two areas, Upper Mustang and Lower Mustang. Both the areas are enriching with amazing barren panoramic landscapes unraveling before your eyes with snowcapped mountains in the background. River Marshyandi flows along 13 districts making land in the area irrigable and more fertile and rewarding you the view of greenery. Manang valley is happening, rendering some of the scenic views of flora and fauna.
Beautiful desert-like structure, especially in the winters, is all beautiful of Manang Valley Trek. Adding to this natural magnificence are the rituals and customs attached to the Manang Valley. Then, there is the fabulousness of mountains surpassing all expectations. The famous Milarepa cave lies just one day away from Manang valley, and more than this cave, multiple old Buddhist monasteries scattered here showcases rich history, customs, and energy sources. Comfort is of necessity, especially in this type of long trail trekking; raconteur adventure is here to make you feel safe and comfortable.
Accommodation and Meals
We believe in sustainability in every aspect of humans. So, we wish to start, grow and sustain with you in this journey where we are the story creators and you are the storyteller. So, it is our rightful duty to maintain the relation in terms of the service we deliver. For your accommodation to meals, there exist "no compromise service quality" in our service book. You will be welcomed in star category hotels in Kathmandu and guest houses in the mountains. A friendly environment, comfortable sleep, and hygienic food are all promised. As far as the meal is concerned, there are a plethora of choices. Different restaurants serving from Italian delicacy resembling Pizza to local savory like MO: MO, Dal, Bhat, Veggies, Tea, and Coffee meet your more than necessary.
We have professionals besides us. From the smartest trekking Sherpas to all networking needed to make you feel safe, comfortable, and sometimes rescued is here to create stories with no worries. So, plan this Manang Trek this season with raconteur adventure.
Best Season for Manang Valley Trek
Autumn(September-November) and Spring(March-May) are ideal seasons for Nepal's trekking and mountain expedition. In these seasons, skies open and unleash clear, glittering mountains for you to see. In spring, there is more joy as hills are full of admirable flowers, plants, and rare animals. The period between Summer(June- August) is of heavy monsoon rainfall, and sites including Mustang, Dolpo, and Nar-Phu valley are rain shadow areas. With a beautiful season to serve you, you need to be fit to accomplish this trekking.
Itinerary Overview
Before setting your foot for those Mountains, you need to hike in your homeland or hike into the woods of Nepal to prepare your body for the lengthy trek awaiting you. But, you don't need to have the past trekking experience for this Manang Trek. Proper rest and acclimatization will do the rest to help you conquer Manang. A perfectly planned trekking plan is a must to make sure everything is well managed. So, Raconteur Adventure has the best Manang Valley Trek Itinerary of 11 days.
The first and second days of the trek will involve your arrival and next day Kathmandu sightseeing. On the third day, we will drive to Chame and hike to Pisang on our fourth day. On our fifth day, we will trek from Pisang to Manang. Day six is your excursion day in Manang. On our sixth day, we will embark our journey through the richness of Manang valley and the fascination of Ganga Purna Lake. The journey of the seventh day continues towards Siri Kharka. Day 07 takes you to Tilicho Base camp. The eighth day of the trek is full of the magical realness of silent lake, the world's highest lake, Tilicho Lake.
From Tilicho Lake, we will trek back to Siri Kharka on our ninth day of trekking. We will hike back to Manang village on our tenth day. On our eleventh day, we will depart Manang on a jeep for a night stay in Besisahar. We will drive back to Kathmandu on day 12 of the trek. On the last 12th day of the walk, we will host our farewell cultural dinner, giving us the chance to listen to your comments and suggestions.
Permits to acquire
There are special permits required to be acquired for trekking in restricted regions of Nepal. Please check the link to the official government's page on permits needed and how to get them. The link is down below:
Manang/Restricted Region Trekking Permits-welcomenepal.com
Mystical and majestical Shangrila of Nepal, the Manang is welcoming you with all arms wide open. Starting your exploration journey from happening capital, Kathmandu and ending with golden memories in the rain shadow region of Everest, in the world's highest lake, there lie many stories in between. So, allow us to be your raconteur in your beautiful journey to natural blissfulness. We assure you comfort, safety, luxury throughout your trip to Manang.
Included
Accommodation, Food, salary, insurance, equipment and medicine for all staff.
All typical Meals during the trek (Breakfast, Lunch and Dinner)
Raconteur Adventure personnel standby during emergency
TIMS permit (Trekking Information Management System)
Hotel and Airport pick up and drop by car, bus and van
Lodge and homestay accommodation in the mountains
Star category hotel in Kathmandu and Pokhara
Trekking Guide and Porter (on demand)
Domestic airfares (on request)
Park Fees wherever applicable
3 Cup of tea during the trek
All your trekking permits
All government taxes
Official expenses
First-aid Kit
Map
Excluded
Your personal expenses which might include room service, internet charges, laundry, bar bills, telephone bills, etc.
Trip Cancellation cost, Loss theft and damage to your personal items
Lunch and dinner are not mentioned in the itinerary
Sightseeing and activities other than those mentioned
International Plane fare and taxes in the Airport
Other meals not mentioned in the itinerary
Personal trekking gear and equipment's
Travel Insurance which is mandatory
Tips and Gratitude's (expected)
VISA Fees
Checklist
Pair of comfortable trekking shoes, sandals and socks
Camera, Power Bank, Smartphone, Torch, and Whistle
Toothbrush, Sunscreen, Shampoo, Shower Gel
Towel, toilet paper, gadgets, slippers
Lightweight and fast-drying T-shirts
Lightweight waterproof jacket
Snickers and other energy bars
Backpack with 15kg capacity
Pair of easy drying trousers
Pair of waterproof trousers
Route Map of Annapurna
Cash in local currency
Hat and set of Glove
2 sets of underwear
A fleece jacket
Water Bottle
Down Jacket
Sunglasses
Raincoat
Tour Plan
01
Day 01
Arrival at TIA, Kathmandu
After you land at Tribhuvan International Airport, Kathmandu, we will receive you at the airport after your immigration formalities. You will be driven to one of the star category hotels. After settling in the hotel and having lunch, you can rest in the hotel or explore the colours and vibrations of the Thamel area. Overnight in Kathmandu.

1350m

3/4/5 Star Hotel

Dinner
02
Day 02
Kathmandu Sightseeing
On this second day of our itinerary, we will have the chance to explore multiple facets that Kathmandu serves as one of the oldest towns in South Asia. The place to sightsee in day second is Pashupatinath temple, Basantapur Durbar Square, Bouddhanath, and Garden of Dreams in the evening. Overnight in Kathmandu.

1350m

3/4/5 Star Hotels

  Breakfast, Lunch, and Dinner
03
Day 03
Drive from Kathmandu to Besisahar(760m)
We will start this day early. We will pick up you from the hotel, and we will drive to Besisahar. We will head towards the west, leaving Kathmandu valley. This drive composes of a winding path at Prithvi highway with the Trishuli river flowing along the road. The winding path ends at Dumre. And from Dumre, we will head north to reach Besisahar. Drive to the north is given the company by the Marsyangdi River. Throughout the drive, we will stop for two long breaks for breakfast and lunch. Overnight at Besisahar.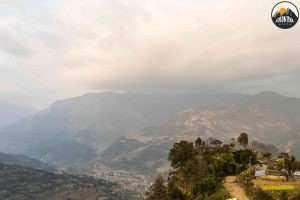 7-8 hours

760m, 2,493.44 ft.

Lodges/ Teahouse/Guest house

  Breakfast, Lunch, and Dinner
04
Day 04
Trek from Besisahar – Bahundanda(1,498m)
Trekking starts from Day 04 of the itinerary. We will trek towards the north to Bhulbhule from Besisahar. Bhulbhule is an excellent place that welcomes its guests with the majestic view of Mt. Manaslu, Himchuli and Nagdi Chuli. After indulging in the natural serenity of the mountains, we will trek to Nadi Bazaar along the Marshyangdi river. After crossing the scaffold over the Nadi River, we hike uphill, pass the landslide area, and reach Bahundanda. Time remaining for the day will be spent here in Bahundanda. Overnight at Bahundanda.

6-7 hours

1498m, 4,914.698 ft.

Lodges/ Teahouse/Guest house

  Breakfast, Lunch, and Dinner
05
Day 05
Trek from Bahundanda- Chamje(1,410m)
On day five of our trek, we will descend to Syange from the east bank of the Marshyangdi river. Syange has a beautiful waterfall to serve you. We will cross extension over the Marshyandi river and continue for the demanding trail along the west bank. We will ascend from the wing until reaching Jagat. Jagat is another excellent place offering an enchanting view of the waterfall. From Jagat, a trail commences along the waterway till we get Chamje. Chamje offers another scenic view of 2020, a long waterfall. Overnight in Chamje.

6-7 hours

1410m, 4,625.984 ft.

Lodges/ Teahouse/Guest house

  Breakfast, Lunch, and Dinner
06
Day 06
Trek to Chame(2,670m)
We will start our trek today with the upward steep stone trail to Tamang Village. The village of Tamang natives is the eminent point of the Annapurna circuit. From the town, 360° view of the entire Annapurna panorama is all possible. The Annapurna Mountain range, Manaslu mountain and other mountains glitter in welcoming you. From this village, our trek continues passing multiple pine and rhododendron forests, bridges and human settlements. We will reach Chame via Koto. Overnight at Chame.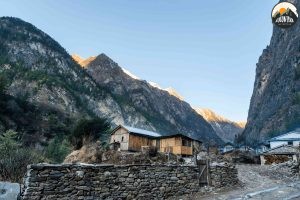 6-7 hours

2,670m, 8,759.843 ft.

Lodges/ Teahouse/Guest house

  Breakfast, Lunch, and Dinner
07
Day 07
Trek to Pisang (3,060m)
We will trek to Pisang on day seven of our itinerary upon having a delicious breakfast at Chame. The trail early is relatively comfortable till we reach Bhartang. From Bhartang, the trail ascends through dense oak forest to reach Dhikur Pokhari. Dhikur Pokhari offers one of the most fulfilling views of Mt. Annapurna and Pisang Peak. From Dhikur Pokhari, we will head towards Upper Pisang passing Lower Pisang. Pisang delivers nature and culture at its best. You can roam around Pisang and explore monasteries. Overnight at Pisang.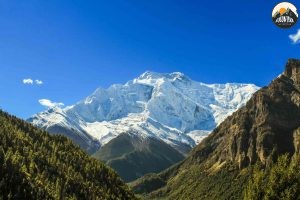 6-7 hours

3,060m, 10,039.37 ft.

Lodges/ Teahouse/Guest house

  Breakfast, Lunch, and Dinner
08
Day 08
Trek to Manang(3,440m)
On this trekking day, we will reach the dry part of the Manang district. We will follow the relatively easy route via Humde. This trail is equally rewarding with the view of Pisang peak, Annapurna, until reaching Manang. We will ascend to Manang. After getting to Manang, you will see Tibetan village, and accompanying is the beautiful sunset. Overnight at Manang.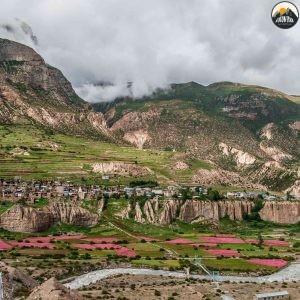 6-7 hours

3,440 m, 11,286.09 ft.

Lodges/ Teahouse/Guest house

  Breakfast, Lunch, and Dinner
09
Day 09
Trek to Ice Lake (Kicho Tal), 4,600m
We will reach Ice Lake by hiking for 4 hours from Manang valley. From Ice Lake, a beautiful view of mountains unfolds. We will descend back from Ice Lake and spend overnight at Lodge in Manang.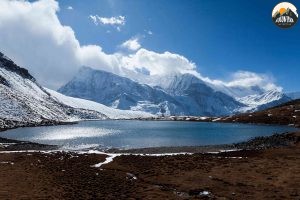 6-7 hours

4,600 m, 15,091.86 ft.

Lodges/ Teahouse/Guest house

  Breakfast, Lunch, and Dinner
010
Day 10
Trek to Chame(2,670m)
We will trek descending from Manang to reach Chame. Overnight at Chame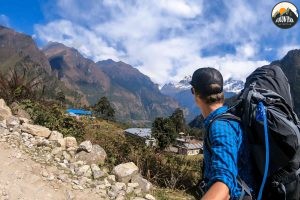 011
Day 11
Trek to Dharapani.
On day eleven of the itinerary, we will trek down to Dharapani. Overnight at Dharapani.

6-7 hours

Lodges/ Teahouse/Guest house

  Breakfast, Lunch, and Dinner
012
Day 12
Drive to Besisahar and Kathmandu
We will drive to Besisahar from Dharapani and to Kathmandu on this day 12.

7-8 hours

Hotel

  Breakfast, Lunch, and Dinner
013
Day 13
Farewell and Departure
Day thirteen is the last day of our trekking itinerary. You can roam around Thamel to buy some souvenirs. We will host a farewell dinner to hear the stories of Manang Valley Trek and your comments and suggestions.

  Breakfast
Tour Location
FAQs
Am I going to get altitude sickness at this Trek?
Well, the trek is over 3500 m in elevation. There are possibilities of having altitude sickness. it usually happens at this altitude above 3500m. For this prevention, we have planned an itinerary that gives you time to acclimatize the Trail.
Is the water of this trek safe to drink?
No, you are not allowed to drink water directly from the lake or any tap, besides you can use water purifier tablets or just boiled water.
What about the first aid and medication kits?
Yes, we give first aid at the trek, we always take the first aid kit with us.
Do I have to bring tents and mattress with me?
No, as there are Hotels and tea Houses you don't need to bring them with you.
What happens if emergency evacuation is required?
If you get into any trouble. We will be able to collect your travel insurance policies and details before your trip. We will be able to coordinate with your insurance company and provide you with the evacuation helicopter.
What Kind of Accommodation will I get during this trek?
We make it a top priority to provide the highest level of service to our customers. In terms of lodging, we have provided star hotels in Kathmandu as well as mountain guest homes during the walk, depending on their needs and requirements. For guests to have a healthy journey, we provide a convenient Guest House with a sound environment and clean foods. In comparison to the situation in the past, the Everest region is well-known and provides excellent lodging facilities.
What kind of meals do I get during the trek?
In the Kathmandu valley, we find a culinary wonderland. In the city, there are many restaurants serving various cuisines, but during the Lodge hike, we will be served Continental, Indian, and Nepali menu items such as Pasta, Pizza, Mo: Mo, Soup, Dal Bhat, and hot beverages such as tea and coffee. Our Guide (Leader) will oversee and advise on the food to ensure that our cherished Guests are satisfied.
What about the trekking team?
As the Himalayas' home, it's natural to expect difficult routes, hazardous weather, and health difficulties; any of these circumstances can easily derail your journey. Climbers and trekkers who are not experienced in leading over steep hills and rocky routes should not attempt it. Raconteur Adventure has been providing native leaders and staff who have been working in this sector for many years to overcome difficult hurdles and make your trip a memorable experience. The government of Nepal has trained and certified our guides. In the Himalayas, our personnel were given comprehensive emergency instructions and evacuation training. They also have a thorough understanding of proper first-aid procedures for victims. We've never compromised on our clients' safety, and we'll never do so again.
What kind of equipment is necessary for the trek?
Equipment is important for making your trip more comfortable and enjoyable, so compile a thorough check list before going on a walk. We recommend that you bring general hiking equipment. For a list of recommended equipment, please check our list.
What are the filed staff rules?
We require a sufficient number of field staffs to pass through difficult routes and ensure your safety and comfort. It consists of many positions such as guide, porter, driver, and assistant guide. Every excursion has a guide, with one assistant guide for every four to nine guests and two for every ten crew members. We send one porter for every two guests when it comes to porters. The number of porters varies according to the clients' loads; a porter's maximum load is 25kg. Our guides (leaders) are professionals who speak English, French, German, Italian, Spanish, Chinese, Japanese, Korean, and other languages as needed. Depending on your needs, we can also handle other personnel.
What is the best season for this trek?
The finest seasons for hiking and mountaineering in Nepal are autumn (September-November) and spring (March-May). During these seasons, the weather is typically clear and the temperature is temperate, providing stunning views with no obstructions. Beautiful flowers, plants, and exotic animals grace you with their presence in the springtime. During certain seasons, walking is a good idea.
Summer (June-August) and winter (December-February) are the two seasons (December - February).
Because Mustang, Dolpo, and Nar- Phu valleys are rain shadow locations, it is considerably clearer to travel around them throughout the summer. Trekking in the winter season is always better on Everest, Langtang, Annapurna, and Tibet.
What is the experience and fitness level required for this trek?
Trekking is a physically demanding sport. For some difficult trials, you may require some fitness training and experience. Nepal Even though we have more hard routes in different regions than Everest Base Camp, it does not require prior expertise or extraordinary fitness to trek in Everest Base Camp. Trekking in the Himalayas always brings us to high elevations and rugged terrain. To maintain your strength, you could request sufficient rest and acclimatization. It is impossible to climb mountains in a single day. In our itineraries, we always include the specifics. Running, skipping, and other workouts, on the other hand, will undoubtedly be advantageous in such difficult ways.

How many days we acclimatize?
When trekking, altitude sickness is a serious concern. You can get altitude sickness on any hike above 2,500 meters, but good health, careful care, and plenty of water will help you avoid it. Every trekker must be accustomed with heights and altitude, thus we provide life-saving acclimatization days during the trek. We also provide medical assistance and emergency helicopter rescue if the situation worsens.
How eco-friendly is this trek?
Raconteur Adventure is worried about environmental damage and global warming, and our only purpose in the Himalayas is to leave memories and footprints. During the walk, especially during camping, we are always serious and genuine about our rubbish. To conserve our environment, we collect trash and dispose of it properly, and we encourage our customers to do the same. We participate in every KEEP (Kathmandu Environmental Education Project) and any environmental conservation initiative that is offered. We wish to support the Clean Air Act and fight pollution and global warming.

Can I customize the itinerary?
Trekking in the Himalayan region can be complicated by unforeseen events such as natural disasters, health issues, and a variety of other issues, all of which might lead to schedule adjustments. As a result, we respectfully request that you comply with your guide and the rest of the team in this situation.