Manaslu Circuit Trek
Manaslu Circuit is a classic trek of Nepal where you will have an amazing time with locals and also encounter rich ancient culture. The amazing trek of the Manaslu circuit takes you to a beautiful pass at 5100m(17,000ft) above sea level. Many suggest the Manaslu circuit is one of the best treks not only in Nepal but in the world. Manaslu is one of the virgin and off-the-beaten trek paths of Nepal rendering some of the mind-settling views of Mt. Manaslu. It is the world's eighth highest peak at an altitude of 8163m(26,781ft.)
Manaslu circuit trek is a tea house with all camping options. This trek has some of the stunning views of Mt.Himalchulu(7,893m), Manaslu(8,156m), Ganesh Himal II (7,118m), Sarangi Himal(7,161m), and other peaks. Larkye La Pass at 5167m is what highlights this Manaslu Circuit Trek. Beyond the alluring beauty of mountains, rich culture, traditions, the language of both Nepalese and Tibetan ethnicity makes your travel wonder some. Manaslu region is equally awesome in its offering of flora and fauna.
Flora & Fauna
Hills full of blooming rhododendron and oak trees reward you with freshness during your Manaslu Circuit Trek. And the presence of aromatic plants and medicinal herbs during the trek makes your investment-worthy. Manaslu is also the home to wildlife including grey musk deer, blue sheep, Himalayan Tahr. Most notably, the endangered snow leopard and red pandas are also in this region. Manaslu Circuit Trek is all fulfilling and satisfying with the chance to see and observe the deep gorges of the Budi Gandaki river.
Itinerary Overview, Manaslu Circuit Trek
Raconteur Adventure has a perfectly designed 18 days Manaslu Circuit Trek Itinerary taking you to rich villages of rural Nepal and more close to the mountains.  This 18 day of trek starts from Sotikhola and then to Maccha Khola. Maccha Khola, the trek continues to Philim via Jagat. Then from Philim we will reach Ghap via Deng. As trekking continues, we will reach Lho from Ghap and to Sama Gaon from Lho. Then we will continue trekking to Samdo from Sano Gaon. We will spend one acclimatization day in Samdo and will continue to Dharmashal from Samdo. Then comes the most important day of the trek as we cross Larkya La at 5135m from Dharmashala. Then after a beautiful experience, we'll trek to Dharapani and will drive to Kathmandu from Dharapani. Long trekking requires healthy food and a comfortable bed and we assure the best of service.
Food and Accommodation
We will accommodate you in star category hotels in Kathmandu and up in the mountains tea house meets your necessities. These local teahouses are run by locals and they have basic facilities with two single beds in one room. In these tea houses, you can have dinner in the common dining room which is heated by fire. You will get shared toilets and they mostly are outside of the teahouse. To trek in this region of Manaslu, you need special permits. The wifi facility is there in most of the tea houses and SAT phones are available too for communication which will cost you more. Nepal Telecom provides better coverage than Ncell here in Manaslu.
Permits Required
Manaslu region was closed until 1991 and is this region remains one of the virgin and restricted trekking paths of Nepal.  You cannot trek alone in the region and you will need a special restricted area permit, from a local company. Then you will need ACAP (Annapurna Conservation Area Project Permit) and MCAP (Manaslu Conservation Area Project) to do Manaslu Circuit Trek and remember you cannot trek alone.
Manaslu is one of the most stunning places in Nepal. Mind-boggling view of mountains with the accompany of the local tea house, and blooming rhododendron makes your all trekking experience worthy of the story to share with any. Manaslu is a ten times less busy trek than Annapurna and Everest region trek. As you continue trekking in the Manaslu region, a suspension bridge with amazing height and length accompanies you. You will trek crossing rivers on semi-submerged rocks. Trek commences from rice and millet terraces, continues to mighty Budi Gandaki gorge, amazing waterfalls, and ultimately to the nicest of view of mountains.
Raconteur Adventure is here to take care of all your logistics for this Manaslu Circuit Trek. You have a well-trained and experienced team working with locals and other partners ensuring you a smooth trekking experience.
Image Credits;
Included
Accommodation, Food, salary, insurance, equipment and medicine for all staff.
All typical Meals during the trek (Breakfast, Lunch and Dinner)
Teahouse and homestay accommodation in the mountains
Raconteur Adventure personnel standby during emergency
Hotel and Airport pick up and drop by car, bus and van
Trekking Guide and Porter (on demand)
Star category hotel in Kathmandu
Domestic airfares (on request)
Park Fees wherever applicable
3 Cup of tea during the trek
All government taxes
All your trekking permits
ACAP and MCAP Permit
Official expenses
First-aid Kit
Excluded
Your expenses might include room service, internet charges, laundry, bar bills, telephone bills, etc.
Trip Cancellation cost, Loss theft and damage to your personal items
Sightseeing and activities other than those mentioned
Lunch and dinner not mentioned in the itinerary
International Plane fare and taxes in the Airport
Other meals not mentioned in the itinerary
Personal trekking gear and equipment's
Travel Insurance which is mandatory
Tips and Gratitude's (expected)
VISA Fees
Checklist
Pair of comfortable trekking shoes, sandals and socks
Camera, Power Bank, Smartphone, Torch, and Whistle
Toothbrush, Sunscreen, Shampoo, Shower Gel
Towel, toilet paper, gadgets, slippers
Lightweight and fast-drying T-shirts
Lightweight waterproof jacket
Snickers and other energy bars
Backpack with 15kg capacity
Pair of easy drying trousers
Pair of waterproof trousers
Route Map of Annapurna
Cash in local currency
Hat and set of Glove
2 sets of underwear
A fleece jacket
Water Bottle
Down Jacket
Sunglasses
Raincoat
01
Day 01
Kathmandu Arrival
On the very first day of the trek, we will welcome you at capital, Kathmandu. Kathmandu is one of the old then town of south Asia with hundreds of years history, art, architecture, and stunning natural beauty. We will guide you through cultural shock that you are likely to encounter as you come out of TIA(Tribhuvan International  Airport). We will check in at star rated hotels in or around Thamel. Thamel is city on its own which is buzzing, beautiful and happening. Thamel has numbers of restaurants serving international and local cuisines. Dinner and Overnight at Thamel.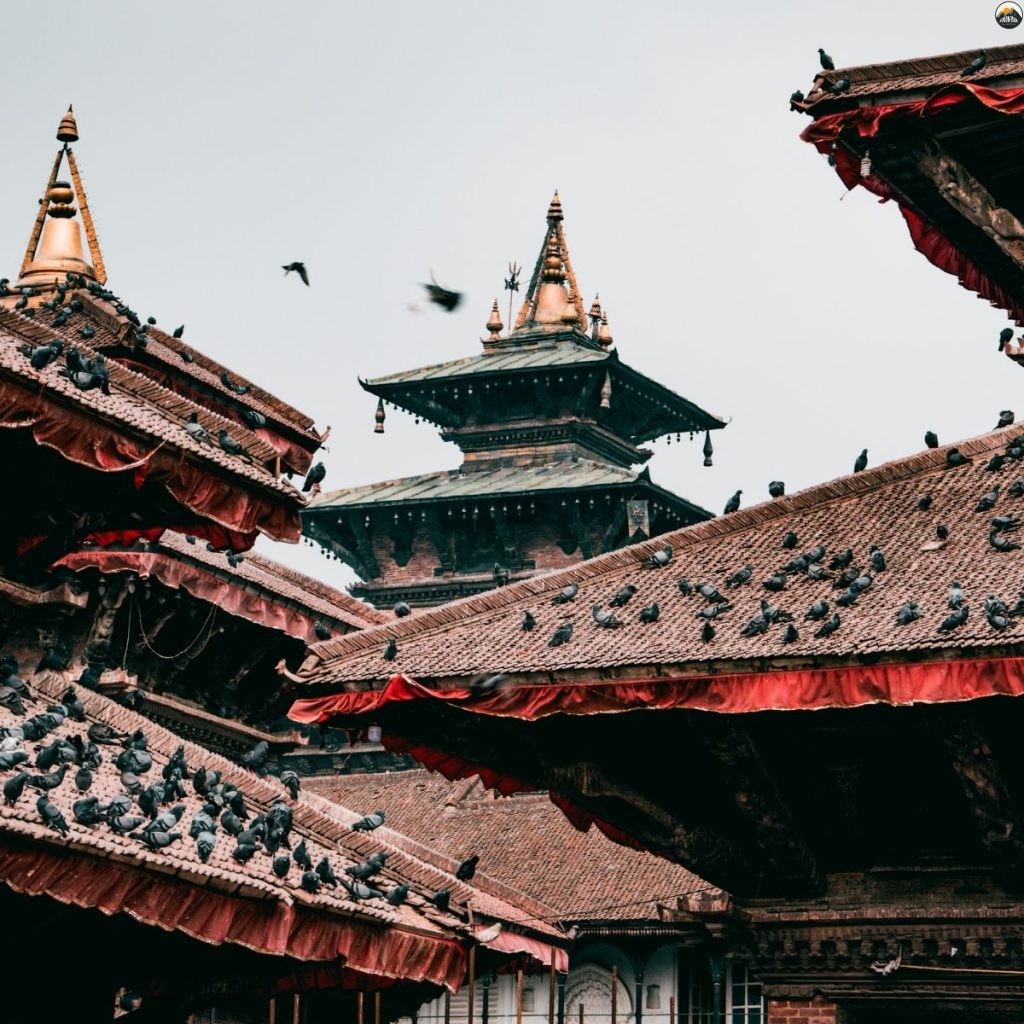 1350m

3/4/5 Star Hotel

Dinner
02
Day 02
Kathmandu Exploration
Kathmandu has beautiful weather. No summer or winters are extreme and city is happening and lively. On the second day of trekking, we will do Kathmandu Sightseeing. We will explore Patan in early afternoon after having breakfast and then explore Boudhanath after lunch and in the evening we will rest and relax at bank of Bagmati in Pashupatinath temple. Then, we will drive to Thamel and have dinner. Overnight at Kathmandu.

1350m

3/4/5 Star Hotels

  Breakfast, Lunch, and Dinner
03
Day 03
Drive from Kathmandu to Soti Khola (720m, 2,362feet)
Upon having breakfast as hotel in Kathmandu, we will get ready to drive to Soti Khola carrying all necessary items for the trek. We will drive via Kathmandu-Pokhara highway to reach Soti Khola. Soto Khols is in the hilltop village of Dhading. This scenic drive to Seti Khola si full of amazing view of local and rural community lifestyle, green terraces, small towns and green lush hillsides. Total drive is not smooth as drive path meets dirt and rutted roads. But as path becomes more rugged, amazing and scenic view of southern Annapurna, Ganesh Himal, Manaslu and Langtang Himal unravels before you. We will be arriving at Soti Khola after driving for 8-10 hours which is 141.3km drive. We will stay overnight at tea house in Bhuri Gandai Valley.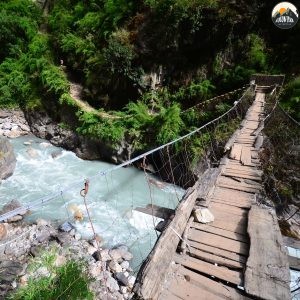 8-10 hours

720m, 2,362 ft.

Teahouse

  Breakfast, Lunch, and Dinner
142 km, (88 miles)
04
Day 04
Trek from Soti Khola to Macha Khola (900m, 2,920 feet)
We will start the day with breakfast at Soti Khola and will continue this epic Manaslu Circuit Trek. We will trek up- down viewing amazing landscapes, forest, rice fields and paddies, river, cliff-face ridge and many beautiful waterfalls. Journey of the day to Macha Khola starts by crossing a bridge. Then trek continues to a forest, then after, we will climb to a ridge above rapid river of Budhi Gandaki. Budhi Gandaki river is joined from Tibetan highland river, the Tum Khola river. Our trek continues with rocky trail to Khursane, passing tropical waterfalls on a steep, and rugged and rocky trail clinging to the cliff side. From the cliff, the trek descend passing rice fields and paddies and then ascends to beautiful Gurung village of Labubesi.
From Labubesi, we will climb further near rocky sprout from where the valley is seen next to the peaceful river. We will ascend down the shore of the river, and will hike along round stones before ascending again over a side ridge. Then, we will trek down again to river, pass another suspension bridge to reach village of Machha Khola. The total trekking is 14 km (8miles) with trekking time of 6-7 hours.

6-7 hours

900m, 2,920ft.

Teahouse

  Breakfast, Lunch, and Dinner
14 km ( 8 miles)
05
Day 05
Trek to Jagat (1370m, 4495ft)
After breakfast at Maccha Khola, we start our trek to reach Jagat.  We will start trekking today following gorges and will continue ascending to a river. Trail at first is smooth and narrow and is up and downs. We cross Tharo Khola for reaching Khorlabesi. Then after more descend and ascends, we will reach hot spring in Tatopani. Tatopani offers you a good break during this part of the trek.
Then from Tatopani, we will climb ridge and then cross Budhi Gandaki River on suspension bridge. We continue the trek climbing staircase to reach a hill (ridge)at Dobhan. We will cross another suspension bridge of Yaru Khola River and again will ascend staircase of stones, then trekking continues to river and more stairs to ascend after crossing the river. After defeating these stones stairs, we will reach Tharo Bharyang. Tharo Bharyang is this beautiful Gurung village in high above jungle where Langur monkeys roams.
From Tharo Bharyang, we cross west bank of Budhi Gandaki, then we will climb over a hill, trek along the river and then ascend to the final destination of the day, the Jagat village. Total trek time for the day is 6-7 hours covering 13.7 mile (22km)

6-7 hours

1370m, 4495 ft.

Teahouse

  Breakfast, Lunch, and Dinner
22km (13.7 miles)
06
Day 06
Trek from Jagat to Deng (1804m, 5917ft)
After the breakfast at Jagat, we start our trek with accompany of landscapes, sub-tropical dense forest, rustic villages and small rivers to Deng. We commence the trek ascending over a rocky hill until reaching Salleri. Then, from Salleri, the trek descends for a while to Sirdibas. As trail continues to Ghattta Khola river, valley widens. From Ghatta Khola, we continue trekking ascending upstream to long suspension bridge in Philim. Philim is large and amazing village of Gurungs. From Philim, the trek turns north above the low house of the village. Then, the trail is smooth passing millet fields at Ekle Bhatti.
From Ekle Bhatti, trail enters a steep gorge where human settlements are not found. From height of the gorge, trail descends through slopes of grass and continues to cross Budhi Gandaki River. We continue hiking along the west bank of the river for a while and will cross the east bank before returning to the west side again. As, trekking progresses, trail becomes more wide passing through valleys and after crossing bamboo forest, you will reach Deng Khola river and finally after crossing Deng Khola river, we will be in our destination of the day, the Deng village. The total trekking time is 6-7 hours and total distance to trek is 12.3 miles (19.9km)

6-7 hours

1804m, 5,917 ft.

Teahouse

  Breakfast, Lunch, and Dinner
19.9 km( 12.3 miles)
07
Day 07
Trek from Deng to Namrung2630m, 8626 ft.)
Upon having breakfast at Deng, our trek moves forward to reach final destination of Namrung for the day. Day seven of Manaslu Circuit Trek is one of the culturally fulfilling day of this trekking journey. We will start by crossing Budhhi Gandaki river and will ascend up to the bridge, from where we will climb more for little time join trail from Bhi. Then, we will head up to west to the valley passing peculiar villages of Manaslu ethnic groups, alpine vegetation, and lush forests. All this experience of trekking double altogether as major mountain peaks appears in at a distance from you.
We will trek through Prok, Prok is village rendering amazing view point of Siringi Himal (6100m). After small break at Prok, we trek crossing Budi Bandaki multiple times in day seven of our trek and visiting Gompas on the way. Trail then continues through dense forest following river upstream and ultimately leading to a narrow gorge. We continue till forest becomes less dense. Then eventually, you have last steep climb to reach the village of Namrung. This day is full of villages and is your chance to see and observe local culture, lifestyle and traditions. Total trek for the day is 6-7 hours with total distance of 12.1 miles (19.5km)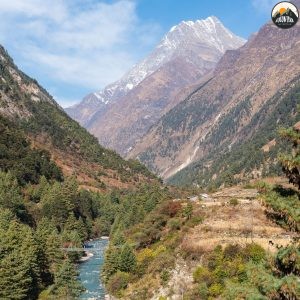 6-7 hours

  2630m, 8,626 ft.

Teahouse

  Breakfast, Lunch, and Dinner
19.5km (12.1 miles)
08
Day 08
Trek from Namrung to Samagaon(3530m, 11,578 feet)
After having breakfast at hotel in Namrung, if you wish you can walk around Namrung village to get amazing view of Mt. Siring, Ganesh Himal(7422m), Mount Himal Chuli(7893m) to the south. Trekking begins climbing up from the village, passing through forests reaching Lihi. Lihi is this amazing village with masterfully crafted stupas and terraces farming of barley. From Lihi village, the trail then descends, cross side valley of Simnang Himal(6251m) and Ganesh Himal nearby.
The trekking trail takes you to path passing Sho, Lho and Shyala villages until you reach another amazing village, Sama village. Lho village rewards you some of the spectacular view of Mt. Manaslu. As you reach Shyala village, you will find yourself surrounded by high glittering mountains like Himal Chuli (7893m) and Ngadi Chuli (Peak 29) (7871m) to left and all stunning Mt. Manaslu and large glaciers straight ahead. Ganesh Himal lies Far East from Samagaon and other peaks is to the right. Dinner and Overnight stay at Samagaon. The total trekking hours for this day is 6-7 hours and total distance covered is 10.9 miles (17.7 km)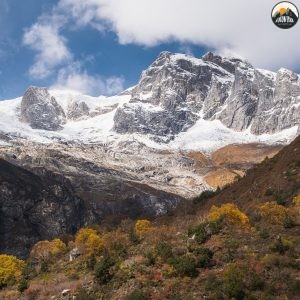 6-7 hours

3530m, 11,578 ft.

Teahouse

  Breakfast, Lunch, and Dinner
17.7km (10.9 miles)
09
Day 09
Acclimatization day at Samagaon.
Day nine of this Manaslu Circuit Trek is resting day. Have healthy and tasty breakfast at Samagaon and all day is yours. Enjoy walking in the village, be communicative with locals, take photographs, make your day beautiful.
But if you want to do day hike, to see and explore authentic and rich Sherpa culture in the mountains, you can do so too. This hike will take you to amazing sights of thousands of Mani stones in Buddhist texts. If you hike little up near Sama village, you will be able to explore Old Gompa known as Pungyen Gompa. You can enjoy amazing view of glacier from the Gompa.

3530m, 11,578 ft.

Teahouse

  Breakfast, Lunch, and Dinner
010
Day 10
Trek from Samagaon to Samdo(3,875m, 12,712ft.)
Upon having breakfast at Samagaon, we will continue the trek descending to Budhi Gandaki River and continuing to a bridge over a side stream. As trail continues, you will pass many mani walls and as you pass these walls, wider view of valley opens up. The route today is amazing and offers you beautiful view of mountains as you get more close to the Tibetan border.
The trail today is relatively easy. We will continue trekking above the river passing birch and juniper forests in Kemo Kharka. Then from Kemo Kharka, we will descend and cross wooden bridge in Budhi Gandaki River. After crossing the bridge, we again do steep climbing onto ridge between rivers from two sides. From this ridge, we will reach stone archway, and finally reach Samdo village after some hour hike from this stone archway. The total trekking time for the day is just 04 hours and total trekking distance is 10.1 miles (16.4 km).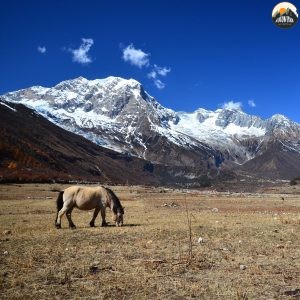 04 hours

3875m, 12,713 ft.

Teahouse

  Breakfast, Lunch, and Dinner
16.4km(10.1 miles)
011
Day 11
Rest Day in Samdo (3875m, 12,713 ft.)
Today is the day to rest. You can rest for entire day with short walk in the village or you can also hike in one of these areas;
01 Option
Option one is easy hiking starting from behind of Samdo village and reaching one of trade passes heading to Tibet. This route is all fulfilling with mind-boggling view of Mt. Manaslu, Mt, Simrang, Mt Hiunchuli, Mt. Ngadi. Mt. Larkye Pass and Cheo. As you trek to these amazing view points,  you will be passing herding settlements known as doksas and will see all beautiful bird of the mountains, the national bird of Nepal, the Lophophorus , Himalayan Griffin, Lammergeyer and other birds.
02 Option
You can take more difficult route to Gya La (large pass) as option second of optional day hike. You can start from north of Samdo. This is longer day hike and not recommended for seeking to rest a little.

3875m, 12,713 ft.

Teahouse

  Breakfast, Lunch, and Dinner
012
Day 12
Trek from Samdo to Dharmashala (4460m, 14,633ft.)
Upon having breakfast at Samdo, we commence trek firstly passing Tibetan seasonal market known as Larke Bazaar. Then, we will continue descending to Budi Gandaki River. We will cross Budi Gandaki river on a wooden bridge and continue hiking up, crossing 2 streams and all this with magnificent view of Larkya Glacier. As our trekking continues, we will heard around Salka Khola River and ascend again to reach Dharmashala, which is also known as Larke Phedi. This route rewards you with presence of many monasteries which are traditional. The hike today is short and offers plenty of time to rest and relax in the afternoon. The total trekking time is 4-5 hours and distance covered during the trek is 7.2 miles (11.7km)

4-5 hours

4460m, 14,633 ft.

Teahouse

  Breakfast, Lunch, and Dinner
11.7km(7.2 miles)
013
Day 13
Trek from Dharmashala to Bimthang(3590m) via Larkya Pass(5,160m)
Day 13 is the day, we have been waiting for as we will pass Larkya Pass today. This day has longer hike. We will start after having breakfast at hotel in Dharmashala. Trail is more challenging but equally rewarding as sight of beautiful rustic village, clear glacier lakes, amazing valleys, numerous flora and fauna and not to mention glittering snowcapped mountains unravels in front of you.
We will do short ascend and reach valley at north side of Larkya Glacier. From the valley, you can indulge in stunning view of Cho Danda Peak and Larkya Peak (5106m). The trail continues crossing hills made of glaciers and ascending gradually to meet steeper routes in the end section of Larkya Pass. Larkya Pass is the highlight of the trek and as you stand in the pass, you will be having some of the ravishing view of Annapurna II (7937m),Cheo Himal and Himlung mountain. We will end trek of the day with satisfying and rewarding walk to low pastures in early evening with Mt. Manaslu glittering in the distance. The total trekking time of  the day is longer with 7-9 hours of trekking and total trekking distance being 15.3 miles(24.7km)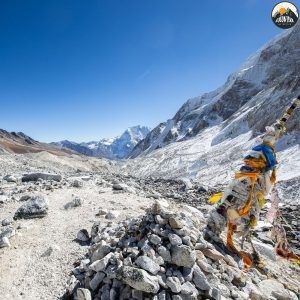 7-9 hours

5160m, 16929.13 ft.

Teahouse

  Breakfast, Lunch, and Dinner
24.7km(15.3miles)
014
Day 14
Trek from Bimthang to Tilije (2300m, 7546ft.)
Our day commences with the breakfast at Bimthang. Trail at first takes you to ridge from where beautiful scenery of Mt. Manaslu, Mt. Lamjung(6,983m), Himlung Himal and Cheo Himal unfolds. From ridge, trail keeps descending, crossing higher pasture and then reaching a bridge over Dudh Khola river.
From the bridge, we will continue hiking through forest of rhododendron and following a narrow trail until reaching high altitude cultivated land in the valley at Karche. Then, we will pass lush fields, make steep climb over a hill. Trail takes you off the ridge in big arc to river bank. From here, Gho village is at short distance. But we will continue hiking until reaching Tilije at altitude of 2300m. The total trekking time is 5-6 hours and total trekking distance is 10 miles (16km)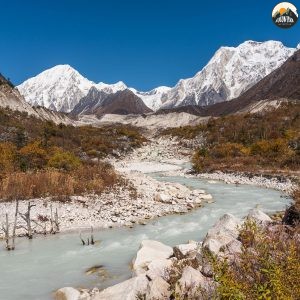 5-6 hours

2300m, 7,546ft.

Teahouse

  Breakfast, Lunch, and Dinner
16km(10 miles)
015
Day 15
Trek from Dharmashala to Bimtang via Larkya La Pass (5135m)
Upon having breakfast at Tilije, our trek for the day kicks off. We will start climbing over a small hill and will start descending to meet stone paved route. Once we reach stone paved path, we will cross bridge over Dudh Khola river and the will climb up passing stupa shaped arch and mani wall until reaching Thonje village. Thonje has police checkpoint and from Thonje, we will continue to Dharapani. We have now exited Manaslu Conservation Area and entered Annapurna Conservation area of this trek.
As trail continues, we will ascend further, cross bridge over Marshyangdi Khola River. We will pass more mani walls until we reach the village of Tal. Tal lies at foot of large waterfall. Tal has more facilities with more tea houses and other facilities. The total trekking time for the day is 5-6 hours and total distance covered via trekking is 7 miles (11.3km)

5-6 hours

5130m, 16830.71 ft.

Teahouse

  Breakfast, Lunch, and Dinner
11.3 km (7 miles)
016
Day 16
Trek from Tal to Syange (1080m, 3543ft.)
We will start with tasty healthy breakfast at Tal. We will commence descending trek to the Chyamje village by crossing fast flowing Marshyangdi Khola once again over a suspension bridge. Marshyandi village opens up as we cross the river, villages of terrace fields clinging very high to the side of hills.
From Marshyangdi village, trek trail descends further opening trail full of mind-settling pine and rhododendron forest to reach Syange village. We will stay overnight at Syange village. This day is final day of trekking and you should check-out amazing waterfall at Syange. Total trekking time for the day is 6-7 hours and the trekking duration is 8 miles (12.9km)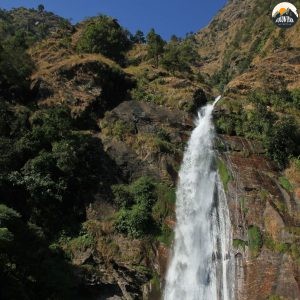 6-7 hours

1080m,3543 ft.)

Teahouse

  Breakfast, Lunch, and Dinner
12.9 km(8 miles)
017
Day 17
Drive from Syange to Kathmandu
With delicious breakfast to kick off the day, we will roam around the village for the last time and drive to Kathmandu. We will drive you from Syange via Besisahar to Kathmandu. This scenic drive rewards you nice view of hills and mountain landscapes as vehicle move with bank of Marshyangdi and Trishuli river. Overnight at star category hotel in Kathmandu.

7-8 hours

1400m

Hotel

  Breakfast, Lunch, and Dinner
018
Day 18
Departure
The last day of this amazing journey has came. Please enjoy streets of Kathmandu, buy some souvenir , check out cafés and get ready for the flight. Raconteur Adventure will host an farewell dinner/lunch to share stories and to hear your review on our service.