Overview
Kathmandu Valley is the Capital city of Nepal with a dense population in South Asia.  Nepal is a country of art and architecture and famous for Holidays and vacations. Kathmandu valley is full of sights featuring Temples, monasteries, monuments, and National heritage sites. Kathmandu valley offers a great experience of sightseeing and many more. For this, we present you the Nepal Heritage Site Tour consisting of six different National UNESCO Heritage sites.
Major highlights of the Nepal Heritage Site Tour
UNESCO heritage sites
Local cuisine
Photogenic location/spots
Nepalese Local Cuisine
Brief history By Local guide
Nagarkot Sunrise
Itinerary Overview- Nepal Heritage Site Tour
Day01, Tour of Swayambhunath, Kathmandu Durbar Square, and Patan Durbar Square
Phase 01- Drive to Swayambhunath(1979, UNESCO heritage site listing)
At the Crack of the dawn after breakfast, we will start our journey sharp at approx. At 8 am in morning, the guides will pick you up from a hotel, and we will drive you to a Swayambhunath Stupa. According to the legends, the word "Swaymbhu" means "Swayam" means itself and "Bhu" means it has self rose.  The monastery here is popular as the monkey temple due to lots of monkeys seen playing around and that's how it got the name. It lies at the top of the hill of the Kathmandu valley. Mainly famous for Buddhist People around the world, the stupa surrounds by the dome-shaped monastery and also small other statues and shrines. After we click some photos and spend our time we will head to another location.
Phase 02- Drive from Swayambhunath to Kathmandu Durbar square(1979, UNESCO heritage site listing)
We will head for Kathmandu Durbar Square once we indulge in the spiritual serenity of the Swayambhuanth monastery.  It is 5.1 km and about an hour ride to the center of the Kathmandu valley if the traffic is acceptable. approx.  Kathmandu Durbar Square is a very famous Durbar square of Nepal,  was built during the time of the Malla dynasty. Also, this place is popular as Basantapur too. Likewise, this was the king's royal palace during the time before the conquer by the shah dynasty. The Durbar square is surrounded by sensational art and architecture.
There are many temples and old houses in the square.  Highlighting  Kathmandu durbar square are Taleju Bhawani Temple also known as Kumari Temple, Kastamandap a three-storied Temple made up of a single tree. And a palace of the museum that has an ancient history.
Phase 03- Drive from Kathmandu Durbar Square to Patan Durbar Square
After we visit the open medieval museum of Kathmandu Durbar Square. we continue our sightseeing city tour to the more satisfying artistic town of Patan and the exoticness of Patan Durbar Square.  Patan durbar square was enlisted in UNESCO in 1979. Patan durbar square is  11km far from Kathmandu Durbar Square and takes 1-2 hr. approx. The city of Patan is the 3rd largest city of Nepal in the south-central part of the Lalitpur District.
The district is mostly known for its food, heritage, monument, arts and crafts, and many more. Patan was once a royal palace of  Malla kings when they ruled the area from 1201 to 1779.  This durbar square is the perfect instance of art architecture and culture featured district. Some of the major attributes of Patan durbar square are Krishna Mandir, Bhimsen Temple, Taleju Bhawani temple, Sundhara, Vishwanathan Temple, etc.  We will drive back to a nice hotel in or around Thamel.
Day 2- Tour of Pashupatinath, Boudhanath and stay at Nagarkot
Phase 01- Drive From Pashupatinath to Boudhanath
After lunch at the rooftop of the Boudhanath, we will head towards Pashupatinath the House of Lord Shiva(1979, UNESCO site). Pashupatinath Temple is about 2.2km away from Boudhanath and takes about 10 minutes if everything goes right, because of Traffic jams we do not guarantee the actual time duration.
Pashupathinath is the Biggest Hindu Temple for all Hindus in the world. People pay homage to the third eye of Lord Shiva in the Pashupatinath temple. Different other small Temples and Ashrams surround the main temple. River Bagmati flows on the side which is the Holy River sharing number of mythological stories. The main attraction for a touristic eye includes the crematory ceremony of Hindus where a wood log bed is laid to burn the dead ones and this whole ceremony takes place with the belief that the energy of the dead meets salvation
This very place is more likely to crowd by devotees every day.  Entering into the main shrine of the Pashupatinath temple is not possible if you are not Hindu. We can also see the pagoda-style built house and temples of golden roof featuring the engraved architecture of god goddesses and animals with different meanings with 518 temples and monuments.
Phase 02- Drive to Nagarkot
After visiting Swayambhunath we will head for Nagarkot which takes us about 2.5 hr. and is 27.9 km. The drive to Nagarkot is bumpy and with dust.  Nagarkot is a village, 32 km east of Kathmandu valley in Bhaktapur district. Nagarkot is popular as one of the alluring destinations for sunrise and sunset view.  After we check in a hotel we will call it a day and stay overnight at a hotel.
Day 3- Tour of Nagarkot with sunrise, Bhaktapur and Changunarayan.
Phase 01- Sunrise in the morning
At the crack of the dawn, we will wake up for the first sunrise view along with the silver 8 Himalayan range the ranges are Ganesh Himal range, Manaslu range, Ganesh Himal range, Langtang range, Jugal range, and other ranges with the view of Shivapuri and Kathmandu valley.
Phase 02- Bhaktapur Durbar square(1979, UNESCO heritage site listing)
After we take some pictures and have our breakfast we will head for another Location I.e. Bhaktapur durbar square which is one of the most visited locations of Kathmandu and also the smallest district of Nepal. This durbar square consists of distinct squares naming Taumadhi square, Dattatreya square as the pottery square, and wholly known as Bhaktapur durbar square. This durbar square is Photogenic so take a picture as a memo after this we will roam free and have our breakfast.
Phase 03-Changu  Narayan Temple
After we will take our breakfast will head for the oldest Temple of Nepal, Changu Narayan Temple which was built in ancient times by Haridatta Barma 325 AD in Pagoda style. This temple lies at the top of the hill in Changu Narayan VDC worshiping the main deity as Lord Vishnu. This venue is full of spiritual beliefs and monuments and we will pray for our wishes and after a short Break we will arrange a farewell program for you and we will depart.
Nepal heritage site tour is an experience with the art, music, festivals, customs, taking you to powerful Hindu and Buddhist shrines, hill stations, and majestic medieval structures.
Image Credit;
Shaouraav Shreshtha on Unsplash
Ghana Shyam Khadka on Unsplash
Wikimedia commons
Included
Transportation Pick and drop
A licensed city tour guide
All Meals
Mineral Water
Entry Fees
Checklist
Tour Plan
01
Day 01
Swayambhu nath stupa-Kathmandu durbar square-Patan durbar square
We will start our journey sharp at approx. At 8 am in the morning, the guides will pick you up from a hotel, and we will drive you to a Swayambhunath Stupa.
02
Day 02
Pashupatinath Temple-Baudhanath stupa-Nagarkot
After about Approx. 9.8km for 28-30 minutes of a ride we will reach Pashupatinath,
03
Day 03
Sunrise-Bhaktapur-Changunarayan
After we had our lunch at the rooftop of the Boudhanath we will head towards Pashupatinath the House of Lord Shiva which was enlisted in the UNESCO world heritage site in1979,
Tour Location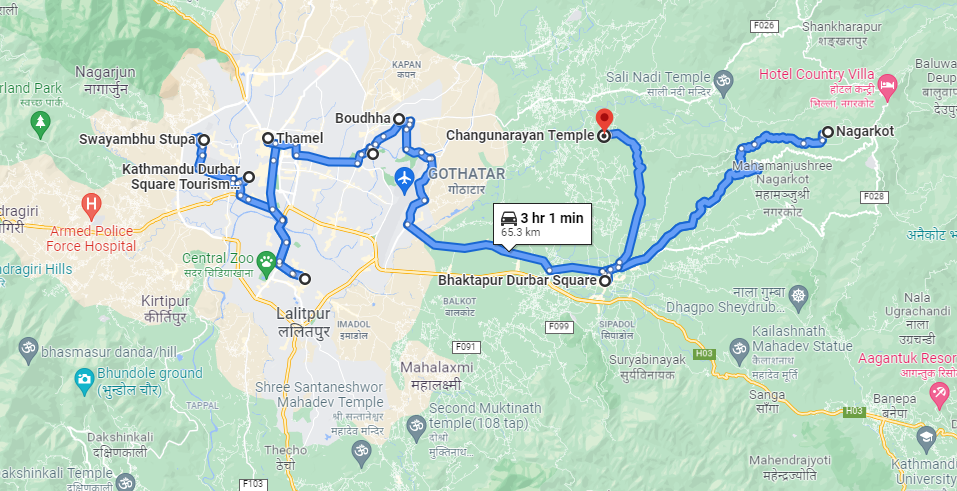 FAQs