Overview
Pokhara City Tour
Pokhara is one of the most beautiful and intriguing cities in Nepal. The sheer beauty this city has is beyond comparison. A perfect valley at the lap of the Annapurna mountain range is what Pokhara tells stories about. A mind-boggling view of the mountains is all but guaranteed when you are in Pokhara. But beyond these mountainous views, Pokhara itself is rich in both natural and human-made magnificence. Pokhara is popular as a city of lakes such as Fewa Lake, Begnas Lake, and Rupa Tal (Lake). Pokhara is blessed with nature's showering of beauty and heritage. The beauty of this city is multiplied even more in the evening setting. Pokhara City Tour renders you a complete experience full of excitement and surprise as the magnificence of natural and artificial offerings surpasses your expectations.
Pokhara Offerings
The beautiful reflection in the water of the lakes is created by artificial light, and the cool breeze of air passing through the Annapurna range and coming to your service makes Pokhara one of the hottest destinations not only in Nepal but on the planet. And there are colorful bazaars, happening nightlife, and courteous people, which just adds more to the overall Pokhara experience. The streets in Pokhara are wider, offering you a rich walking experience. Pokhara is simply one of the best sightseeing spots in Nepal. You can make yourself comfortable on the lakeside, enjoying the cool breeze of fresh air, hit local clubs and bars, or simply pamper yourself with recreation including massages and sauna baths. Pokhara has got it all.
Some of the rich offerings of Pokhara for you to experience are Davis Fall, one of the famous waterfalls, Sarangkot, the best viewpoint to behold the magnificence of the mountains, Bat Cave, the cave to see and capture wild bats, and some of the rich offerings of Pokhara for you to experience are: Davis Fall, one of the famous waterfalls, Sarangkot, the best viewpoint to behold the magnificence of the mountains, Bat Cave, the cave to see and capture wild batAside from natural wonders, the World Peace Pagoda, Tal Barahi Temple, Camps, and the National Mountain Museum provide assurance of knowledge, spirituality, and inner peace. The compelling beauty of Pokhara is never-ending as it offers adventure activities including paragliding, bungee jumping, zip-lining, and zip flying too.
Itinerary Overview of Pokhara City Tour
Pokhara is accessible via road and air. You can book your flights to Pokhara or rent a luxury vehicle from Kathmandu. It is up to you to choose the vehicle and luxury of your choice. Our itinerary for Pokhara City Tours includes a full day of sightseeing in Pokhara, half-day sightseeing in Kathmandu, Sarangkot Highway, farewell dinner, and an adventure activity of your choice. We have designed one of the best 3 night/4 days Pokhara City Tours for your comfort and safety. On the first day, we will engage in Kathmandu sightseeing of historical and religious sites and fly to Pokhara post afternoon. Upon reaching Pokhara, we will assist you with hotel check-in and encourage you to spend the rest of the time on your own. You can hit local clubs and bars, engage in recreational activities like massages, sauna baths, Jacuzzis, etc.
Then, on our second day of the itinerary, we will hike to Sarangkot, which is 2.5 hours from downtown Pokhara. Sarangkot renders some of the most intriguing views of mountain ranges, including Annapurna and the Dhaulagiri range. Sarangkot welcomes its guests with the warm hospitality of local entrepreneurs. We will return back to Pokhara by vehicle from Sarangkot. Then, we will start our sightseeing of Pokhara, and the sites that you may choose to explore include World Peace Pagoda, National Mountain Museum, Davis Fall, Bat Caves, Mahendra Cave, etc. We will engage in a full day of sightseeing and have lunch at a pre-set, convenient location. In the evening, you will check in to Rupakot Resort.
The day of the luxury
On our third day, we will do the boating and fishing in the morning at Begnas Lake near Rupakot Resort after breakfast at the hotel. Then, we will explore Pokhara, its streets, and gullies by cycle during the afternoon or you do a whole day boating in the Begnas Lake. You can engage in other adventures like paragliding, bungee jumping, zip-lining, and ultra-flight during this time. Then, in the evening, we will host a farewell dinner at one of the jazz restaurants in Pokhara. On our final day, you will have breakfast at the hotel before boarding a flight, or we will drive you back to Kathmandu.
What do we offer?
The Pokhara City Tour is luxurious, reducing all the hassle of bumpy roads and the risk involved. So, there is no compromise undertaken on meals and accommodation. All hotels booked will be a three-star category or above if needed. The vehicle is luxurious, the guide is experienced, and all safety measures are taken.
Pokhara is easily one of the most beautiful cities in Nepal, and the Pokhara City Tour of Raconteur Adventure is one of the ideal ways to explore the fascinating vibration of Pokhara.
Pokhara City Tour Highlights
A breathtaking view of the Annapurna Range's towering peaks.
Adventures like cycling, paragliding, bungee jumping, zip-lining, etc.
Sightseeing of the most seen sites in Pokhara
Sarangkot Hiking
Hotels with a star rating
Comfortable Vehicles
Know Pokhara more with the following blog;
english.onlinekhabar.com,; 9 must-visit destinations in Pokhara, Nepal's tourism capital
Image Credit; Bijay Gautam
Included
Accommodation, Food, salary, insurance, equipment and medicine for all staff.
All typical Meals during the trek (Breakfast, Lunch and Dinner)
Raconteur Adventure personnel standby during emergency
Hotel and Airport pick up and drop by car, bus and van
Star Category Hotel in Kathmandu and Pokhara
One Adventure activity of your choice
Park Fees wherever applicable
Domestic airfares (on request)
All government taxes
Necessary Permits
Official expenses
First-aid Kit
Excluded
Trip Cancellation cost, Loss theft and damage to your personal items
Sightseeing and activities other than those mentioned
Lunch and dinner are not mentioned in the itinerary
International Plane fare and taxes in the Airport
Other meals not mentioned in the itinerary
Tips and Gratitude's (expected)
Your Personal expenses
VISA Fees
Checklist
Your Regular Travel Packaging
Tour Plan
01
Day 01
Kathmandu Sightseeing and Fly to Pokhara
On our first day of the itinerary, we will fly to Pokhara after doing Kathmandu sightseeing. We will land at Pokhara airport as glittering mountain welcomes you in Pokhara. After checking out from the airport, we will drive to the star category hotel in Pokhara. Relax and time on your own. Lunch, Dinner, and Accommodation. You can hit local clubs and bars during the evening time.
02
Day 02
Sarangkot Hike and Pokhara Sightseeing
On our second day of the Pokhara city tour, we will kick off the day with the short hike of 2.5 hours to Sarangkot and will return back in a vehicle. Then, we will gather in the hotel for refreshment.  Then, we will commence our sightseeing tour of Pokhara, and our offerings of sightseeing points involved Bat cave, Davis Fall, World Peace pagoda, National Mountain Museum, and many others of your choice. We will end our tour with the sound hospitality of Rupakot Resort, one of the lavish properties of Pokhara.
03
Day 03
Rupakot Resort, Begnas Lake
Rupakot Resort is one of the luxury offerings of Pokhara including grand boating and fishing experience and exotic of Rupakot is there to accompany you. After checking out, in the afternoon, we will involve in the adventure offerings of Pokhara. You may choose adventures like Paragliding, Bungee Jumping, Zip- Lining, and many others. You can also do short cycling as an excellent choice of adventure and excitement. As the day ends with cycling, we will stay at a hotel in Pokhara. Breakfast, Lunch and Dinner, Accommodation.
04
Day 04
Check Out and return back to Kathmandu
We will end our tour after having morning breakfast at the hotel. Then, if you desire, you can relax your muscles in a popular massage parlor around lakeside Pokhara and then board a flight to Pokhara or drive to Pokhara. Breakfast and Transportation.
Tour Location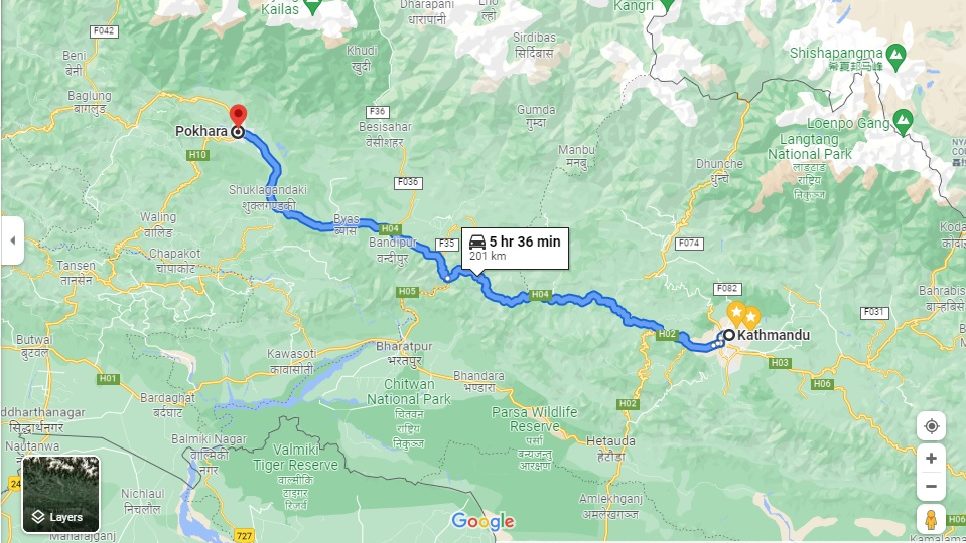 FAQs